NOTE WHEN UPLOADING PLEASE DO NOT INCLUDE SPACES IN FILE NAME.
This amazingly silly app will have all your friends laughing and keep everyone amused for hours.
Have fun at people's expense by literally putting words in their mouth. Make ANYBODY say ANYTHING you want...
Simply either take a picture with the iPhone camera or load an image from your photo albums. Could be of a friend, family member, colleague, complete stranger, your favourite celeb, cartoon character or even various body parts (use your imagination)...
Once you have loaded your image, position and manipulate the MouthMask to fit exactly under the top lip and around the chin on the photograph. The MouthMask has sophisticated grab handles that allow you size and shape it anyway you want to fit anyone's mug.
So now the fun begins... Hit record and talk into the iPhone's mic. As you record your message you can see the photograph talking in synch. End recording and PLAYBACK whenever you want and make your friends laugh with the hilarious results.
Great for nights down the pub, in a bar, at a party or just to relieve your boredom when you're home alone. Save the results and relive the hilarity when you need a laugh or edit the audio with fresh material.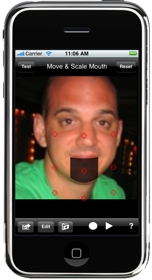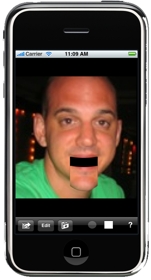 Important: BigMouth requires audio input to utilise the apps full functionality. Therefore this app is mainly suitable for iPhone users. iPod Touch 2G users will need to use a compatible mic through the headphone jack to record audio
After install iPhone/iPod Touch 2G may require rebooting before first use.
NOTE WHEN UPLOADING PLEASE DO NOT INCLUDE SPACES IN FILE NAME.
NOW INCLUDES ABILITY TO TRANSFER ANIMATIONS TO OTHER IPHONES. PLEASE DO NOT INCLUDE SPACES IN FILE NAME WHEN UPLOADING>